Superfood is important to eat and an important term to know about in a paleo diet. Nutrient and antioxidant-rich, full of vitamins and fiber, any individual superfood should be worked into your daily meals as a great replacement to taking handfuls of vitamins each day. You can eat them in your food! And I especially love the superfood pitaya which PitayaPlus is bringing to the world.
In the past we have learned about the amazing benefits of foods such as goji berries and acai berries. But you may have also noticed more recently the amazing dragonfruit.
Also known as pitaya, dragonfruit is that beautifully tropical-looking bright pink fruit you have likely seen in the produce section of your grocery store. When you cut into it, you find a white flesh specked with tiny black seeds. This is the Asian variety and is quite bland and is lacking many nutrients. The pitaya from Central America, however, is actually magenta inside and has a slightly sweeter strawberry-raspberry flavor and many more nutrients such as vitamin C, various B vitamins, magnesium, antioxidants and fiber!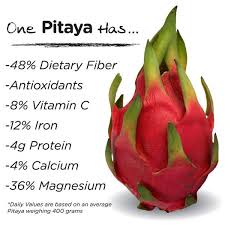 Now a wonderful company called PitayaPlus has brought all the nutrients of this beneficial dragonfruit to us in an easy to use smoothie pouch. I had my testers try this smoothie pouch out and the resulting paleo recipes were as beautiful and nutritious as they were delicious. I can't decide which I like better: soft serve ice cream with dragonfruit or this delightful dragonfruit parfait.
PitayaPlus founder, Chuck, discovered dragonfruit while working in Nicaragua where he began eating the fruit every day. He noted that he always felt great afterward, energized and refreshed. He decided to take this fruit back to the United States with him.
Not only did he know that this superfood needed to be more widely known by the people in North America, but he also had a desire to help those who were living in Nicaragua, where the fruit would be harvested. PitayaPlus could bring new business to the poverty-stricken Nicaraguan people. Particularly the single mothers there who struggle to provide and care for their families. Chuck chose to hire the single mothers in the country to help to process the fruit. Making a difference in the community and the lives of the Nicaraguan people is just another reason to love this product!
From pitaya breakfast bowls topped with paleo buckinis and fruit for added texture and crunch, to tropical pitaya parfaits, to bright pink pitaya chia pudding. This is definitely something you can have on hand in your freezer to quickly and easily add into your paleo diet routine for added vitamins and fiber in a new, delicious and beautiful way.

I was informed that Pitaya Plus Smoothies & Bowls are now being served in over 500 juice bars, smoothie shops, cafes, and restaurants in California, Hawaii, Puerto Rico, Florida, Arizona, Texas, Illinois, Tennessee, Arkansas, New York, Virginia, New Mexico and New Jersey. How exciting is this. It is all up on their site.
Find out how to get your own PitayaPlus smoothie packs at www.PitayaPlus.com.
After you make your own pitaya creations, do share photos with me by emailing me at my contact page. I'd love to see what you come up with!
Enjoy!
If you have any questions or suggestions just email me at Tina (at) Paleomazing.com.