I have found one of my favorite paleo-friendly and gluten-free smoke houses yet – a paleo smokehouse located in Vermont: Vermont Smoke and Cure! When I find one I like you know me, share it with the world! They make delicious paleo-friendly smoked meats and fresh sausages from hogs, turkeys and beef from Vermont farmers yearly. Bacon, did I say bacon – yes! OMG…damn good is the word! They deal with part-timers with one hog in the backyard to a full-time farmer selling in farmers markets, to CSA (Community Supported Agriculture) customers and in stores for us to purchase. I love it!
They are using pure ingredients the old fashioned way. They've been at this for over 50 years in their own smokehouse in northern Vermont, keeping an eye on their top of the line standards. The flavor says it all, not to mention how darned great you feel after eating their meats. Easy to digest, clean flavors, and just the perfect seasonings (where applicable) and the exact right smoking process.
Let's talk bacon folks: I tried their low sodium and regular (maple brined damn fine) and even their uncured slab bacon. Wow, all of it was dancing in my mouth and my recipe ideas were endless. I actually loved their low sodium as it was what I'd call "perfect". This was odd as I am a salt freak, so go figure. I felt like I could taste all the little innuendos that much more, which enabled me to appreciate it a tad more.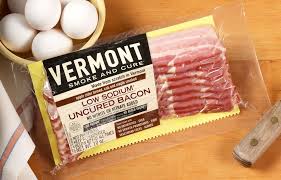 Most of you know I am an avid hiker and love the heat and mountains more than I probably should, as I hate sunscreen. I know, I know…thanks mom! OK, back to the point here. Vermont Smoke House has these amazing RealSticks which are packed with protein for snacks or on-the-go, like for me in the hills.
I started dropping them in my purse for the predictable "lovely" LA traffic. Just when I think I am about to pull over and give in to some crap store, voilà a RealStick it is! Saves me all the time. They are made with beef and pork or turkey (new) and packed with 6-10 grams of protein. The favors are so varied now that there really is not anyone who will not like more than one. I believe they now have 7 flavors! Lucky us.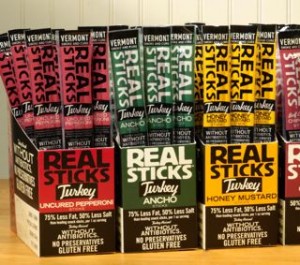 Our new café in Eagle Rock, CA (Habitat Coffee) is now carrying these for all our gluten-free, paleo and health-conscious lovers and we cannot keep them stocked enough. That tells it like it is. Our head chef tested the bacons and all I heard was endless positive talk about the flavors and aromas. We can't deny a chef's opinion, can we?
Now let's chat briefly about these short fat Summer Sausages they sell. They go through a 12-hour fermentation method that leaves a clean, tangy flavor. Their naturally-raised and made Summer Sausage is made with pork and beef raised humanely, without antibiotics or added hormones and only vegetarian feeds. They use no added sodium nitrite or any other artificial preservatives or anything else. I like these sliced cold for snacks alone or heated in a pan or chopped and added to my eggs or omelets. Really, the possibilities are endless. Paleo-friendly and again, packed with easy to digest protein as it is clean meat.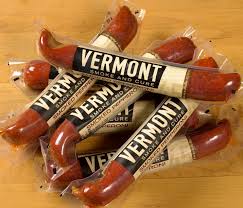 I love a company that has ethical standards that align with how I want to feed my own body, my family and friends, one with excellent customer service, and not to mention one that I would spend my own time writing about and sharing with y'all. So, there you have it! I really love this company and I am fully hooked on their meats and meat treats.
My body thanks you Vermont Smoke and Cure and now my family does as well. My hat is off to a 50 year old company that's still going strong and servicing the community, a company that cares about their health.
Now on that note, be sure and check out the latest paleo products I'm featuring right now in my PaleOmazing giveaway. I'm sure you will enjoy!
If you have any questions or suggestions just email me at Tina (at) Paleomazing.com.