This recipe is very easy to make! There isn't anything much better than chocolate covered bacon. Add to that some nuts and shabang! You can eat this any time of day and it's absolutely healthy, high in protein and contains the perfect ratio of fats. Not only is it high in good fats, which will give you the energy you need, but the chocolate will help get you in the mood for whatever your night has in store for you. Have a great time with this paleo recipe. Let your imagination run wild!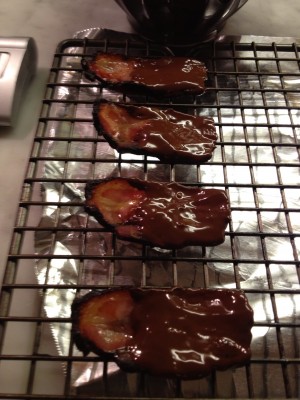 On the subject of chocolate, you'll find an eBook full of chocolate recipes and other decadent delights at my eBook page. Check it out!
Print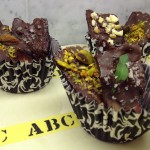 Maple Cured Chocolate-Covered Bacon with Nuts
---
Description
---
1

package of maple-cured bacon (I prefer the 5280meat brand, but you can use any of your choice)
Goji Berry Chocolate or any you prefer

1 cup

macadamia nuts, coarsely chopped – or nuts of your choice
---
Instructions
Fry the bacon according to the package directions.
Cool the slices for about 15 minutes on a paper towel-lined baking sheet.
Once cooled, cut the bacon slices into thirds.
Using a double boiler, melt the chocolate or melt it slowly in your microwave.
Holding one end of the bacon slice, dip into the chocolate.
Sprinkle with the macadamia nuts and move to waxed paper to cool.
Repeat the above with the remaining slices.
Enjoy!
---
If you have any questions or suggestions just email me at Tina (at) Paleomazing.com.