Cupcakes have gotten so popular these days, haven't they? What a craze we've seen in the world of baking! Cupcakes are everywhere these days, and I see them all the time in cookbooks and cooking magazines (I have TONS of these around the house!). As soon as I see a picture of a beautiful, moist-looking cupcake, usually topped with some gorgeous decoration, my mouth just starts watering!  So it was only fitting that I share my paleo strawberry cupcake filling with the world.
This is one of those paleo dessert recipes I came up with after seeing a strawberry-filled cupcake on a magazine cover. Yah, you know, one of those!  Just nearly died! The trouble was, it was a traditional cooking magazine, not paleo one bit.
Off I went and I found a paleo image I liked on an Instagram page (Dame Dayne I believe?). So, I looked up the recipe on her site. Figured I'd give it a whirl. That was over a year ago. I am not sure how much I have altered it now as she is no longer active on Instagram and I cannot find her or her site.
This paleo strawberry cupcake filling is now one of my most favorite paleo desserts! If you're feeling extra fancy, top your cupcakes with creative chocolate designs!
Craving more strawberry baked goods? Try my Paleo Strawberry Surprise Muffins! Of course, email me if you have any questions, and don't forget about the free gifts I like to give to my readers.
Print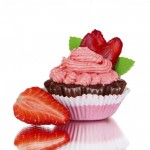 Paleo Strawberry Cupcake Filling
---
Description
Try this filling in your favorite paleo cupcake recipe. Goes beautifully with both chocolate and vanilla flavored cupcakes and cakes!
---
½ cup

coconut "cream" (not milk)

4

heaping teaspoons strawberry jam

2

egg yolks

¼ teaspoon

arrowroot
---
Instructions
Mix the coconut cream and jam together.
Heat on low/medium heat.
In a separate bowl, whisk the 2 egg yolks.
Add the 2 egg yolks to the warm coconut cream mixture before cream is too hot.
Keep whisking and immediately turn to low and keep whisking. This will take about 5 minutes.
Whisk in arrowroot powder.
Turn heat up to medium/high until it begins to bubble then turn off the heat.
Remove from heat source and let cool for a few minutes.
Place in refrigerator for 10-15 minutes to set.
Enjoy!
---
Notes
You may add organic food coloring for a brighter red in the first step.
If you have any questions or suggestions just email me at Tina (at) Paleomazing.com.