Think Chinese take-out healthy style and you say, "No Way". Oh yes! Multi-talented woman extraordinaire Melissa Joulwan has been so generous as to share this "take-out" craving satisfier and now we all have access to this paleo and gluten free recipe from her most recent cookbook entitled Well Fed 2 in our very own hands. Jeez, this woman can cook up a storm! I'm just dreaming of these sesame cucumber noodles with some Thai Fish Skewers and some refreshing Paleo Lemonade. Perfection!
Melissa is the author of Well Fed and Well Fed 2, as well as the founder of the ever popular Paleo website: http://theclothesmakethegirl.com. She is a blast, loves clothes and can dress to the hilt and does so with pride, a bit of rock-n-roll and and is on a mission to be SUPER fit and to help others as well. She walks the talk!
This is what Melissa has to share about her below tantalizing recipe:
Sometimes, especially when I'm stressed, my desire for the good ol' days of takeout is almost unbearable. In my romanticized memories, Chinese takeout was a carefree experience: pick up the phone, order a pile of food, and 45 minutes later, inhale a bowl of cool, creamy, nutty sesame noodles in all their MSG-starchy-sugary glory. In reality, I did mental gymnastics to make it OK with myself to overeat foods I knew weren't doing me any favors. When the gluttony was done, I made promises to myself about how I'd "start over tomorrow." This recipe requires no recriminations or rueful promises.
Photo Credit: David Humphreys. Thanks David!
Print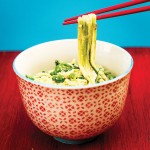 Sesame Cucumber Noodles from Well Fed 2
---
Description
Sometimes, especially when I'm stressed, my desire for the good ol' days of takeout is almost unbearable. This recipe will satisfy that craving for you as it does me! – Melissa
---
2

large cucumbers (or

1

large English cucumber)
Salt

1 teaspoon

sesame seeds

4 teaspoons

tahini

2 teaspoons

sunflower seed butter (no sugar added)

1 teaspoon

toasted sesame oil

1 tablespoon

coconut aminos

1/2 tablespoon

rice vinegar

1 tablespoon

water

1/4 teaspoon

crushed red pepper flakes

2

cloves garlic, minced (about

2 teaspoons

)

1/4 teaspoon

powdered ginger

1

scallion, green part only, thinly sliced
---
Instructions
With a julienne peeler, turn the cucumber into noodles.
Place the julienned cucumber into a colander or wire sieve and toss generously with salt until the strands are lightly coated.
Allow the noodles to "sweat" for 20-30 minutes to remove excess water.
Rinse with running water, drain well, and pat dry with paper towels. (You may be tempted to skip this step. I strongly advise against it. This step prevents watery noodles.)
While the cucumber is sweating in the colander, heat a small sauté pan over medium heat. Toast the sesame seeds until light brown, about 2-3 minutes.
Set aside to cool.
In a small bowl or food processor, mix the tahini, sunflower seed butter, sesame oil, coconut aminos, rice vinegar, water, red pepper flakes, garlic, and ginger until smooth.
Place the cucumber noodles into a large mixing bowl.
Add the dressing, and toss gently with two wooden spoons until evenly coated.
Mound on a plate and sprinkle with the sliced scallions and toasted sesame seeds.
Enjoy the first creamy, nutty bite, then ask yourself, "Who needs takeout?"
---
If you have any questions or suggestions just email me at Tina (at) Paleomazing.com.