Meatza? What exactly is a "meatza?" Well, think of pizza but then let's think of pizza made of meat – and in this case, 5280 meat. I am not talking just some pepperoni on top of a pizza or ordering double meat. I am talking full on meat. A whole pizza made of meat. Now that is some protein!!!
This recipe was shared by my good friend Mara Rouse (www.mararouse.com), which she developed using grass-fed ground beef from 5280 Meat. If there is a group that knows meat it's 5280! I've already had a fantastic time whipping up recipes with their beef and pork, like my Royal Rib Eye Steak and my Baked Eggs in a Porky Cup. Yum! Protein-loaded foods are always great. Finding ways to make them fun to keep your palate on its toes is another thing. This is a great way to take your craving of pizza and turn it into something more nutrient dense while not breaking your diet. We work too hard at sticking to what is healthy to let it go out the window for our cravings. Mara always adds such delicious flavors to make her recipes unique and different.
Make this paleo recipe and keep the leftovers in the fridge for your next meal. That is assuming you don't eat the whole thing!
And while it's in the oven, check out my giveaway page and enter to win something! Fun!
Print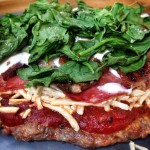 ---
Description
A whole pizza made of meat. Doesn't sound real but it sure is! Packed with protein and sure to help you stay on track with your diet despite your cravings.
---
1 tablespoon

salt

1 teaspoon

caraway seeds

1 teaspoon

dried oregano

1 teaspoon

garlic salt

1 teaspoon

ground black pepper

1 teaspoon

red pepper flakes, or to taste

2

pounds extra lean ground beef

2

eggs

1/2 cup

grated Parmesan cheese

1

(12 ounce) package shredded mozzarella cheese

1 cup

tomato sauce

1

(3.5 ounce) package sliced pepperoni, or to taste
Burrata cheese (to taste)

3

slices of bacon, chopped
Handful of spinach
---
Instructions
Preheat oven to 450 degrees F (230 degrees C).
Mix together salt, caraway seeds, oregano, garlic salt, ground black pepper, and crushed red pepper flakes in a small bowl.
Mix ground beef and eggs in a mixing bowl until thoroughly incorporated. Add Parmesan cheese and seasoning mixture to beef; combine. Press ground beef mixture into a 12×17-inch pan, spread out evenly.
Bake in the preheated oven until meat is no longer pink, about 10 minutes. Drain grease.
Set oven rack about 6 inches from the heat source and turn on the oven's broiler.
Sprinkle 1/3 of the mozzarella cheese over baked meat, followed by tomato sauce in an even layer. Sprinkle the rest of the mozzarella cheese over the sauce and top with slices of pepperoni, burrata cheese, bacon and spinach.
Broil until cheese is melted, bubbling, and lightly browned and the spinach is slightly crispy. 3 to 5 minutes.
Enjoy!
---
If you have any questions or suggestions just email me at Tina (at) Paleomazing.com.