Here was my lead into fine food. Yes, you could call it a bit eccentric for the American child's palate but I loved it. My favorite was the crispy skin on the duck. I preferred the breast and never took to the sweet sauces they drenched it in. I have recreated one version (not the typical sweet), using three seasonings from Flavor God. Now you can enjoy my recipe for crispy duck breast with Flavor God below! I really like how the seasonings from Flavor God give me absolute success in all my paleo dishes I prepare.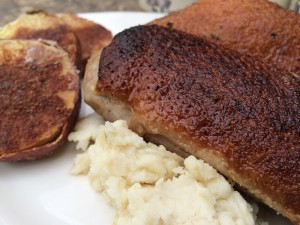 I am sharing with you one version my grandpa would be proud of. I am sharing it today as this weekend, Thanksgiving weekend, would be my dear father's birthday (my grandfather's only son). Thanksgiving was the last holiday I spent with him before his illness took his body and soul away in 2008. The same last holiday I spent with my grandpa ironically was this very same holiday. Our last Thanksgiving meal was a BBQ off his back porch overlooking Lake Washington. He had purchased a wild King Salmon down at the Pier in Seattle, fresh off the boat; it was huge! He said to me, "The heck with the traditional turkey". He loved to add a twist and spark to life and share the finer things of life with all of us kids.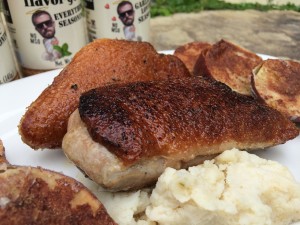 I hope you enjoy this dish and I truly hope you enjoy your Thanksgiving weekend. Enjoy your time with friends, family or however you have planned it and make it a lovely one to reflect back on. Feel free to write in to me and tell me all about it – I do love to hear about your experiences.
Happy Holidays!
Print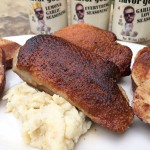 Crispy Duck Breast with FlavorGod
---
Description
I was first introduced to duck by my wonderful grandpa as a young girl and fell for it big time. It was wild duck and he really loved to see the look on my face every time I'd bite into a new presentation. Frog legs, snails, tongue, brains, you name it. I have recreated one version of duck, not the typical sweet kind, using three seasonings from Flavor God. Now enjoy my recipe for crispy duck breast with Flavor God!
---
1 tablespoon

each of Flavor God's Lemon, Everything and Garlic Lovers seasonings

2

boneless duck breasts (approx.

1

pound total – see note below)

2 tablespoons

fat of your choice (I prefer ghee or coconut oil)
---
Instructions
Mix the three seasonings together in a small bowl until well incorporated
Set aside.
Dry your duck breasts and set aside.
Melt half of the fat in a large sauté pan.
Add duck breast fat side down first and cook to a golden brown.
Lower the heat to medium.
Flip the breasts over.
Season with half of the seasonings.
Add the remaining fat.
Spoon the melted fat on top of the breasts and allow the seasonings to incorporate into the fat.
Brown all sides of the breasts, and now and then continue to spoon the fat on top. Be sure not to over brown; turn heat down as necessary.
Add the rest of the seasoning.
The duck will develop a lovely crispy shell and be a beautiful dark golden on the outside.
The temperature at which one eats their duck is a personal choice, so if you prefer rare you will want to serve it at 135F. Keep in mind that the USDA recommends cooking duck breasts to an internal temperature of 170°F to ensure that any harmful bacteria is killed – the choice is up to you.
Once done place the breasts on a platter and let sit for 5 minutes.
Serve with my delicious almond flour duck stuffing and sliced baked yams dusted with cinnamon or any one of my sweet potato recipes or on top of my Paleo Cauliflower Mashed Potatoes.
Enjoy!
---
Notes
Boneless duck breast halves range widely in weight, from about 1/2 to 1 pound, depending on the breed of duck. You may find them in Whole Foods or in many supermarkets in the poultry or specialty meat sections or online.
If you have any questions or suggestions just email me at Tina (at) Paleomazing.com.