I've always wondered why pork spare ribs take quite a bit of time to cook on the BBQ when they are so darn thin after they are cut. I needed a fast method I could whip up during any time of day, even on a whim. Who doesn't?! Sometimes you gotta satisfy a paleo craving with no delays, and this is how my "Amazing Ribs! – Something Totally New!"recipe was born. I always knew pork was pork and figured there was just danger in undercooking this type of meat. I also know that spare ribs need some breakdown time or tenderizing of the tough collagen on them that holds the ribs together and holds the muscle tissue to the bone.
I use powdered grass-fed collagen in a number of my paleo meals and even sometimes in my Bulletproof Coffee, so I do understand collagen holds up to 10 times its weight in liquid when in water and so helps retain moisture and helps my recipes. I was trying like mad to find a solution to rapidly break down the tough barrier of pork collagen in my approach to a speedy, delicious and successful recipe to share with you. Having this tough and very persistent collagen was cramping my style in my efforts to speed up the process of making my ribs. I needed to find a solution.
My goal was to find a way to make BBQ ribs in an hour or less. This was a big undertaking, especially from a gal who is pork-shy of any and all diseases known to man, and since I am promoting recipes and tasting everything I make before I give anything a final pass. Was I going to die in my attempt? I sure had hoped not. Well, I am happy to share that I am alive, disease-free, sharing my success and you can now make killer pork spare ribs in less than an hour!
OK, we need to break this collagen down. Right?  Wow, what a dummy I have been. Boil or simmer the suckers, but don't boil the hell out of them or we will lose the entire flavor and the ribs will taste more dead than they already are.
I learned how to precisely take the meat up to the temperature in salt water (before BBQing them). I got the same results, they did not lose flavor and were tender as can be and cut hours off my spare ribs meal prep. Yahoo is an understatement!!!
Thanks to the group at America's Test Kitchen, and their intelligence, they helped me learn how to tackle my troubles and achieve success. I need to thank Chef Lan Lam for such precise guidance in enabling me to fully understand the process on how and why this works; I have a newfound appreciation for tougher meats as a result. Recipe and details can also be found in the May-June 2013 Cook's Illustrated Book, which is a terrific reference material.
Below is the quickest and most rewarding way to prepare delicious pork spare ribs, which is all thanks to America's Test Kitchen.
I've since created other ribs recipes to show my love of ribs.  You can do smoked ribs in your oven with my Smoked Ribs recipe or Short Ribs easily in your crock pot in your kitchen. There are so many ways to cook your ribs easily now, but boy was I happy to learn about this way!  Be sure to write to me and let me know how this recipe works out for you!
Print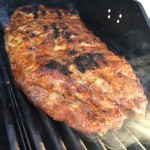 Amazing Ribs! – Something Totally New!
---
Description
My goal was to find a way to make BBQ ribs in an hour or less. Well I'm happy to say I've achieved this goal and this recipe does just that thanks to America's Test Kitchens!
---
4

pounds pork spare ribs (I proudly use

5280

pork ribs)

2 cups

(at least) BBQ Sauce of your choice or make your own

6 tablespoons

salt

7 1/2 quarts

water or enough to cover the ribs fully
Coconut oil (for grill)
IMPORTANT: Ratio is 2 tablespoons salt to 2 1/2 quarts water
---
Instructions
Place 2 tablespoons of salt into 2 1/2 quarts water in a big deep pan or Dutch oven.
Add ribs to water before heated ensuring all are submerged.
Bring to a simmer over high heat.
Reduce heat to low.
Heat up your grill now.
Cover the ribs and cook for about 15-25 minutes.
Cook until the THICKEST part reaches 195F degrees with a temperature probe.
Leave in the pot until ribs are ready for the BBQ.
Remove and dry with paper towels.
Apply sauce liberally to your ribs.
BBQ for 7-10 minutes each side.
Add more sauce as needed.
Do not let them burn.
Enjoy!
---
If you have any questions or suggestions just email me at Tina (at) Paleomazing.com.