This is the most refreshing soft serve ice cream and no one will believe it is an egg free and dairy free coffee ice cream. I should also mention it is easy to make and the perfect paleo recipe to share on this VERY special day! I LOVE ice cream; always have, always will. I get nothing but requests such as, "Can I have more?" each and every time I make this for my guests. Below you will discover my little trick ingredient that I use and HOW I make a real soft serve ice cream STAY soft serve to day 2, 3, 4, etc.
I love this recipe as the leftovers can be covered and stored and won't harden like so many homemade ice creams. You now have soft serve coffee ice cream at any time your heart desires. Since no eggs are used, it is ideal for vegans as well as for anyone with egg or nut allergies too. Coconut is not technically a nut, which explains why so many can eat coconuts yet can't eat nuts.
I also tried making this recipe three different ways; one was by incorporating this new sweetener I came across: Dolcedi. It is just pure apples and you'd never know it. It is really interesting to work with and easy to purchase. It has become quite popular as an alternative sweetener.
Let me know how you like this! We just can't get enough; I always end up wishing I made more.  For something extra special, serve it up alongside my apple tarts with chocolate or my raw hazelnut mint tart.  Happy national coffee ice cream day to you all! Who knew clean eating could be so sweet! 🙂
Print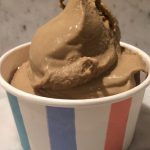 Dairy Free Coffee Ice Cream
---
Description
Wow – this dairy free and paleo coffee ice cream is really something. Not only is it very easy to make, but it's also egg free and sugar free. Vegans and those of you who eat paleo alike can absolutely enjoy this delicious, homemade soft serve ice cream. Be sure to serve it up alongside my apple tarts with chocolate or my raw hazelnut mint tart!
---
2

cans coconut milk

¾ cup

– 1 cup Dolcedi, honey or maple syrup

4 tablespoons

instant coffee (rounded tablespoons if you prefer a stronger coffee flavor)

1 tablespoon

plus 1 teaspoon rum (yes alcohol)
OPTIONAL: 2 pinches vanilla powder
---
Instructions
Place all ingredients in a sauce pan excluding the rum.
Heat slowly and whisk the mixture the entire time.
When very hot to the touch add the rum.
Begin to gently simmer and keep it low.
Stir for 2 minutes.
Remove from heat source and let sit for about 10 minutes.
Pour into a glass dish.
Refrigerate for at least 3 hours to chill completely.
Stir.
Place in ice cream maker and follow your ice cream maker's directions.
Serve.
Leftovers can be covered and stored and will not harden.
You now have soft serve coffee ice cream at any time you desire.
Enjoy!
---
If you have any questions or suggestions just email me at Tina (at) Paleomazing.com.