I am introducing you all to a fairly new organic low-glycemic sweetener all the way from Italy! I decided to create my Apple Tarts with Chocolate recipe using this very ingredient to try it out. The result is out of this world delicious. We had no sugar rush, the tarts embodied the flavor of apples as they should in an apple tart, and the sweetener did its job without overpowering the flavors with a sugary taste.
Rigoni Di Asiago products are all organic and have been carrying the Certified Organic label since 1992. They were one of the first in Italy to "go organic". They have many products, but the one I am focusing on today is the one I am SO happy to have found at my local Whole Foods.
These tarts are really simple to make and very rewarding. I love tarts as I can prepare a large bowl of ingredients and then load up a number of small tart pans, yielding many little desserts or a single large one. I am all about options! I was in Seattle recently and had a bag of these incredibly moist dried Bing Cherries, so I opted to toss a few of them in too. Really, you can do almost anything in a recipe once you get the hang of it. Just keep it all fun, live and learn and you can only get better at your cooking skills.
Dolcedi is an all-natural liquid sweetener that's made from 100% organic apples and is a low-glycemic, healthy and clean alternative to the many sugars out there. It can be used any way you would use table sugar or honey. Its neutral flavor enhances the taste of food and drinks without altering them. It really did this in these tarts and in my Raw Hazelnut Mint Tart. It can be used in cold and hot recipes, so no worries there!
It has 25% fewer calories than table sugar and higher sweetening power (you just need ½ a teaspoon versus 1 teaspoon of granulated sugar). It is made from the concentrated and filtered sugar extracted from organic apples. It is certified USDA organic, non-GMO, gluten-free, vegan and STAR-KOSHER.
I am very impressed with this product and I intend to use it in more of my recipes.  So stay tuned by subscribing to my RSS feed here!
Print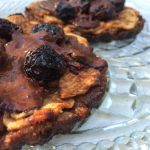 Apple Tarts with Chocolate
---
Description
This delicious and healthy apple tarts recipe is a great dessert to serve up to family and friends. It features a low-glycemic sweetener made from 100% organic apples! No sugar rush from this dessert. Be sure to serve it à la mode with my paleo vanilla bean ice cream.
---
NUTTY CRUST

1 ½ cups

of nuts and seeds of your choice, coarsely chopped (but not powdery) – you can use one type of nut/seed or ½ and ½, etc.

2/3 cup

pitted, packed medjool dates
OPTIONAL: pinch of powdered vanilla
FILLING

4

sweet apples such as Honey Crisp or Fuji apples, cored, peeled and thinly sliced in a food processor

3 tablespoons

Dolcedi sweetener

3 tablespoons

cinnamon

½ teaspoon

vanilla paste or

1 teaspoon

vanilla powder

1

pinch of salt

8

–

10

oz. 70-80% dark chocolate chips or pieces chopped up into pieces (approx..

¼

inch pieces) – I prefer Lily's stevia-sweetened baking chips.
OPTIONAL: Moist dried Bing cherries or fruit of choice
---
Instructions
NUTTY CRUST
Preheat oven to 350F degrees.
Grind your crust ingredients together in a food processor.
Add drops of water if the mixture is too crumbly.
Press mixture into your tart pan(s) or pie dish to form a nice 1/8 – ¼ inch thick crust.
Bake in preheated oven for 8-10 minutes.
Remove and let cool.
FILLING AND ASSEMBLY
Gently stir your apples, Dolcedi, cinnamon, vanilla and salt together.
Transfer the mixture to your cooled pie crust or mini tart crusts.
Cover lightly with foil and place on the middle rack of your oven.
Bake mini or full-size tarts/pie for 14-20 minutes or until mixture is slightly bubbling.
Remove foil and bake until hot, approximately 6-8 more minutes.
Top with dark chocolate chunks, chocolate chips and/or dried yet moist fruit of choice.
Bake for another 4- 5 minutes.
Serve hot with my Paleo Vanilla Bean Ice Cream.
Enjoy!
---
If you have any questions or suggestions just email me at Tina (at) Paleomazing.com.