Clayton Morris, news anchor at FOX and author of Why Gluten Free?: The Simple Guide to Living Gluten Free, Identifying Gluten Free Products, is the man behind BenefitsofGlutenFreeDiet.com, a website and podcast teaching the gluten free lifestyle by providing "incredible, cutting-edge blog content to help you live a more healthy and fulfilling life."
I really loved doing this interview with Clayton. His style, informative and inquiring nature, great qualities in any news professional or interviewer, made for a great conversation from beginning to end.
A few of the things we talk about:
The history of the gluten free diet and Celiac Disease.
The dangers of grains and why we shouldn't be eating them.
Difficulties with making the transition and how to make it easier.
Why go grain free or paleo?
How do you know if gluten free is not enough?
When later asked about our podcast episode Clayton said, "The topic was really around finding common ground with all of these different food philosophies as we fight the good fight against processed food. We addressed Tina and her successes to find out how to eat more naturally and healthfully."
Well, it's a pleasure to be fighting the good fight with Clayton and with all of you. Learn more about my interviews with The Healthy Theory and Transitioning to Paleo. It is exciting and inspiring to be a part of this amazing community of people changing their health for the better.
Now fight against processed foods with a nice bowl of Spicy Raw Kale Chips and Paleo Hummus! That's my kind of fight! J
Remember to visit my Giveaway page for the chance to win a free special gift! Fun!
You can read more about the Podcast Interview on this great press release distributed worldwide: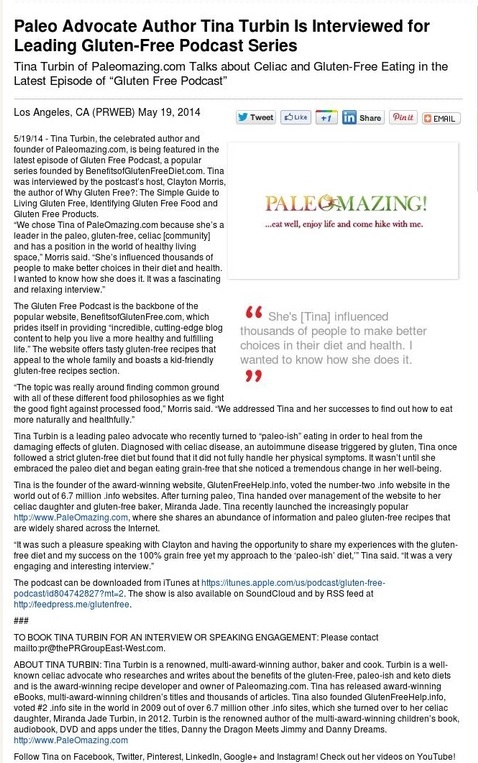 If you have any questions or suggestions just email me at Tina (at) Paleomazing.com.