If you are like me then you aren't ready for summer to be coming to a close. Summer means many different things for everyone but for me it definitely means paleo bar-b-q time! BBQ recipes, like my paleo bbq lamb racks and paleo amazing ribs (seriously amazing tips and tricks I figured out) have definitely been some of my favorites. Recently added to this "favorites" category is in the kitchen, EASY no mess smoked pork. I originally found this recipe from my smoker bag insert yet decided it needed some sauce and possibly some grilling to top it off, for more flavor and moisture. I still love a little BBQ grilled flavor and texture, so that last step is optional.
I can't say I was always a big pork eater but that has definitely changed within the last couple of years. I have been playing around with it much more and cooking up all sorts of paleo recipes with it. This one is great even if you don't consider yourself a top notch BBQer. It has great flavors and the smoker bag takes care of the mess and makes sure your pork comes out perfectly.
Be sure to try this one out. You won't be sorry. It's a great BBQ meal and goes so well with my no-sugar key lime pie.
Print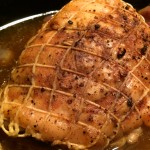 In the Kitchen, Easy No Mess Smoked Pork Recipe
---
Description
It's definitely BBQ time. This one has been recently added to my BBQ "favorites" list. With it being so simple to make and easy to clean up it just may make yours too! It goes really well with my no-sugar key lime pie.
---
2

pounds pork loin roast or chops

1 teaspoon

paprika

1 teaspoon

finely chopped fresh thyme

1 teaspoon

chili powder

1 teaspoon

garlic powder

½ teaspoon

salt

½ teaspoon

ground pepper

4 tablespoons

tomato sauce and 1 tablespoon honey OR brown sugar OR BBQ sauce

1

Smoker Bag (I use SAVU's Alder Smoker Bag)
---
Instructions
Preheat your oven to 475F degrees or heat your barbecue, if using.
Mix the seasonings together and rub over your pork.
Place the pork in the smoker bag and seal it up.
Place the bag on the heat, either barbecue or oven, making sure that your heat source has come up to temperature and is hot.
Smoke pork for 15 minutes.
Lower the temperature on the oven to 375F degrees. If using a barbecue, turn your gas grill to medium. If using a charcoal grill, lift the grate up one step.
Continue to cook 35-40 minutes.
Remove the smoker bag with oven mitts.
Let rest for 10 minutes.
Cut bag open on the top. Be careful as it will be hot and steam may escape.
Remove your meat from the smoker bag and serve.
OR Place on the BBQ for a little scoring and then serve.
Enjoy!
---
If you have any questions or suggestions just email me at Tina (at) Paleomazing.com.