This Paleo recipe creation was one I really had a lot of fun with. I made this paleo chocolate ice cream work as both a pudding or an ice cream, yet without an ice cream maker! Many of my visitors do not have the money to get another appliance and some do not have the space in their kitchen. I know I am begging for another storage space myself. Yep, these darn appliances do take up a lot of room.
I do need to say that using a better chocolate or cacao will yield you a better flavored anything. One I really enjoy is Valrhona Chocolate. You can Google this word and learn the wonderful reasons that back up my choice. SURE, you can use whatever you darn well please. After all it is chocolate we are talking about.
This healthy dessert recipe is one you can make and pop in the freezer right before eating dinner and by the time dinner is over, dishes are cleaned and tummies are settled and it will be ready. The tummies are then starting to grumble and yell for dessert and you are then totally prepared to whip it into a pudding or ice cream. If it freezes too long for the pudding just let it sit a bit longer. Get the hand mixer ready as it whips up into a creamy mousse like texture and is absolutely delicious.
I sometimes add a touch of Lucuma, a Peruvian powder that tastes like maple syrup yet is a low glycemic sweetener and has many beneficial nutrients. Then sometimes I add other spices but all my notes are in the recipe below for you to print out if you wish.
It is lovely to be able to share something so simple, so quick, actually nutritious and does not terribly mess with your blood sugar or leave you feeling like a fat cow after eating it…:) It feels good in your body. Enjoy!
Print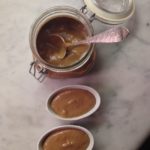 Paleo Chocolate Ice Cream or Pudding
Author:

Category:

Dessert
---
Description
This recipe makes a great ice cream or pudding. A versatile recipe. You decide based on your mood! Both are delicious!
---
1

can coconut milk or cream minus 2 tablespoons of the fat

½

and 1 tablespoon Valrhona chocolate (powder)

4

drops stevia liquid

6

drops chocolate stevia

3

heaping tablespoons honey
---
Instructions
Mix all ingredients well by hand or with a low speed mixer.
Freeze for 15-20 minutes (for both pudding and ice cream).
For pudding, remove and whip all ingredients together with a hand mixer and scoop into ramekins.
For ice cream, test at 20 minutes and see if it needs more time in freezer to be able to "scoop" with an ice cream scooper. Some freezers require 10 or so more minutes.
Serve as is or top with my dairy-free coconut whipped cream.
Enjoy!
---
Notes
I sometimes add Lucuma to my puddings, a low glycemic sweetener that tastes like maple syrup. It adds an element of surprise. Then some days I add chipotle or chile powder depending on who I am serving or what meal came before.
If you have any questions or suggestions just email me at Tina (at) Paleomazing.com.