Boy am I excited; and now I can safely say "we" are all very fortunate people, and I do mean this. I have just eaten some of THE MOST INCREDIBLE tortillas ever and they are totally clean, no gluten, no grains and no dairy. I had a mouthwatering primal party, seriously! They are truly Paleo Tortillas folks – perfect for your paleo meals. Ready to use as-is or heat up in a few different ways to soften. They are like the "real deal"; but without the wheat counterpart. They even crisp up like a tostada – I have a 5 second secret method that creates a cracker like consistency. OK, let's get to it and learn about these two wonderful paleo tortillas from Siete Foods – which are available now!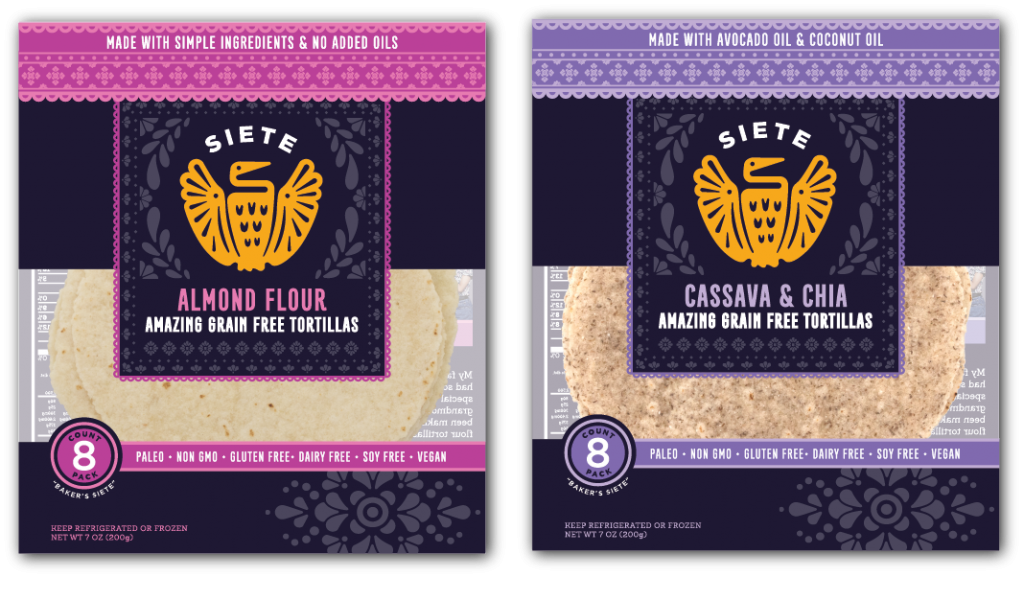 During a recent barbeque I served both the almond flour/coconut and the cassava/coconut tortillas. They have a slight variation in texture and the majority of us agreed that the cassava ones have the stretch that a true gluten flour tortilla has. Some just loved the almond flour tortilla and a few people couldn't tell the difference between the two once heated. Some people have nut allergies so they would prefer the cassava ones for sure.
These tortillas are very easy to work with! They can easily be warmed in seconds to minutes on the stove top, in a pan, in the oven, on the BBQ and even in the microwave. I even used them as wraps as-is and did not warm them up at all. They taste very good both cold or hot. I started eating them as a snack by themselves when on the run, lathering them with ghee or even a nut butter like my fresh pecan or walnut butters. I know, not very Mexican but what the heck! It sure was quick and easy and definitely beats making my own with the resultant mess and then the clean up!
I was curious so I began to learn a bit more and found that these are an all-new tortilla that is just hitting the paleo community and relieving us of the all too common "stale" tortilla texture out there. Siete Family Foods offers an almond flour tortilla and a coconut flour/cassava flour tortilla. They were developed by Siete Foods co-founder Veronica (Vero) Garza, who was basically forced to adopt an anti-inflammatory grain-free diet due to a diagnosis of Lupus and other autoimmune conditions.
Veronica is third generation Mexican-American, so as you can imagine corn and flour were intrinsic to her and her family's diet. As a strong family unit, her family (all seven of the Garza family), joined her in her positive quest to better health. They all began eating a grain-free, low-inflammatory diet and eventually hopped on the bandwagon and were doing Crossfit together. Soon enough, those traditional family meals with a true tortilla were longed for. Especially after far too many Mexican meals with lettuce wraps. Eventually Veronica began experimenting in her own kitchen with three grain-free flours: almond, cassava and coconut.
The final result was a hands-down pass, even by their grandma Campos who knows a good tortilla! She said these were even better than the ones she had been making for decades. Now that is a true pass!
They launched two years ago and I found the almond flour ones in the Erewhon store on Beverly Blvd in Los Angeles. You can easily order them on their easy-to-navigate website: www.sietefoods.com. If they are not in your local store, I say request them. They are INCREDIBLE!
I really am thrilled to have found these! Contact me if you have any questions or troubles.
If you have any questions or suggestions just email me at Tina (at) Paleomazing.com.