As soon as I laid eyes on this pancakes recipe by cookbook author, Hanna Göransson, I was in love. Beautiful and delicious looking, so healthy and simple…and paleo! I love a good pancake and could eat one anytime, breakfast, lunch or dinner. That is what is so great about the paleo diet, it challenges our old ideas of what you are "supposed" to eat at certain times of the day. If I want to have blueberry paleo pancakes with blueberry cream for lunch, well then I will! 🙂
So of course when I saw Hanna's pancake recipe I just had to try it out. I did find that the sweetener options needed a tweak as her original batter recipe has an option of a full teaspoon of "stevia, honey, erythritol, agave syrup, etc." I know this will not work. Her original berry cream recipe requires a full ½ tablespoon of the same sweetener options. That much stevia will blow your head off and you will hate your outcome and using the erythritol alone will give you a slight minty flavor; plus one needs to grind the erythritol to a powder before baking in most cases. Especially for a batter like this. I do not feel right about promoting agave and so I have made my adjustments to ensure the recipe will work 100%, will not waste your money and will be as pleasing to your palate as it is beautiful in the picture.
The below recipe is perfect for impressing those weekend guests during the holidays or otherwise, or simply as a treat for yourself and your family! Enjoy and also check out the many other pancake recipes I have on my site and with all those extra blueberries you have, make a batch of Paleo Blueberry Scones. Yum!
I just love Hanna's website (http://hurbrasomhelst.se/) and do check out her new cookbook: Friendly Food. The photos are beautiful and colorful and she truly makes an art out of food and healthy living. Even the name of her website translates into "as good as it gets," and she hopes to spread the message of living "as good as it gets" by inspiring others through healthy eating, exercising and being creative and positive in one's own life. I love it! That is exactly what I am all about! Hanna lives in one of my favorite countries, Norway, yet was born and raised in Sweden. Both countries exemplify health and I was able to visit both and more and travel throughout the entire Baltic region this past summer of 2014. What an honor! I had one of my best raw dishes ever in Sweden. I sure needed it after living on a boat for 30 days hopping from country to country.
Don't forget to visit my giveaway page to see what exciting things I am giving away now. Enjoy!
Print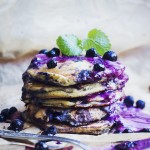 Amazing Paleo Blueberry Pancakes with Blueberry Cream
Author:

Yield:

4

-

5

pancakes

1

x
---
Description
As soon as I laid eyes on this pancake recipe by Hanna Göransson, I was in love. Beautiful and delicious looking, so healthy and simple…and paleo!
---
Pancakes

45

–

50

g / 0.09 – 0.1 lbs (

½ cup

) almond flour

1

pinch of pure vanilla seeds

1

pinch of salt

1 teaspoon

organic honey or pure maple syrup

1/2 teaspoon

baking powder

1

room temperature egg

75 g

, 0.16 lbs (

1/3 cup

) milk of choice

35

–

40

g / 0.07 to 0.08 lbs (

2 ½ tablespoons

) blueberries
Blueberry Cream


2 tablespoon

of full fat coconut milk

1/2 tablespoon

organic honey or pure maple syrup

1

pinch of pure vanilla seeds

10

–

15

g / 0.02 to 0.03 lbs (

2

–

3

teaspoons) blueberries
---
Instructions
Mix all dry ingredients in a bowl.
Add the eggs, milk and blueberries to the dry ingredients and whisk into a nice batter.
Take note: different types of almond flour absorb different amounts of liquid. The batter should be thick but you should be able to stir it – add more almond flour if it is too runny.
Fry your pancakes on medium heat until they are golden brown on both sides.
Stir together the blueberry cream ingredients.
Top pancakes with blueberry cream.
Enjoy!
---
If you have any questions or suggestions just email me at Tina (at) Paleomazing.com.