Nikki's Coconut Butter boasts that it could be your "new (healthy) addiction." I think you may just agree. Wow, this was delicious! So many ideas are crossing my mind to play with for this one simple jar! The paleo dessert recipes that can be created with these butters are endless.
The concept for Nikki's butters is similar to that of common nut butter, but quite different as it is made from the meat of organic coconuts. The coconut meat is ground into butter then sweetened with organic honey, maple sugar or syrup. They also add additional spices to make up the 5 distinct flavors. I only tried out the Vanilla Cake Batter flavor though.
The 5 flavors they make are:
Vanilla Cake Batter ( the one I tried)
Chocolate Hazelnut Brownie
Honey Pecan Pie
Dark Chocolate Fudge
Pumpkin Spiced Donut
The company offers a new mini-sampler pack that includes one 2-ounce jar of each flavor. It's perfect if you want to try the various flavors out.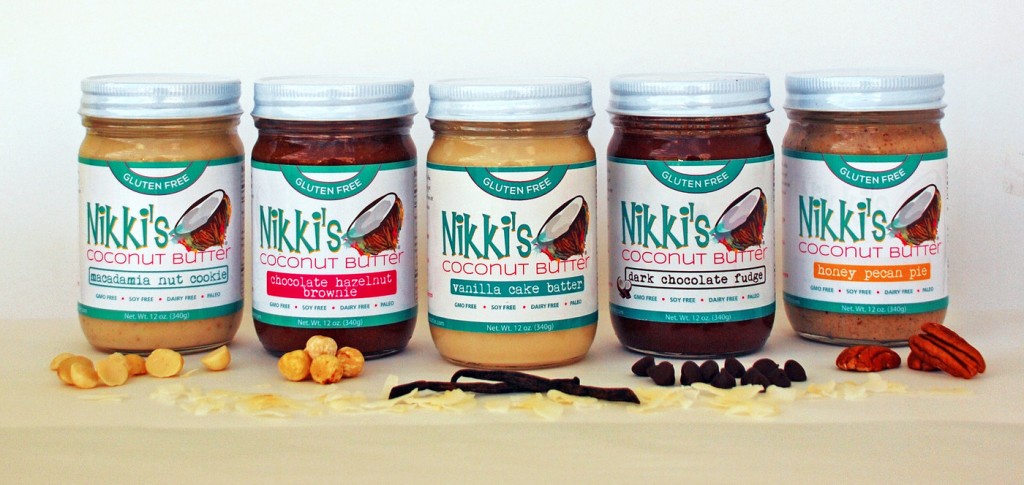 I was sent the Vanilla Cake Batter flavor, so that name alone was enticing. I enjoyed a spoonful right out of the jar, with a banana as well as drizzled over a cupcake and muffin. Fantastic! We also did a quick 30 second heat-up and mixing of it which made it even creamier. It then lent a terrific, smooth texture to add to a warm drink such as a drizzle on top of my coconut whipped cream. "Sweet but not too sweet," as one of my testers commented.
The health benefits of coconut makes eating Nikki's a not-so-guilty, "guilty pleasure". One of my testers noted that she preferred Nikki's as it has no added sugar unlike many other similar products. This way it can be enjoyed as a more paleo-friendly treat that does not play with the blood sugar blues.
Nikki's website: nikkiscoconutbutter.com also offers many recipes, which is really handy. This was a great product that can be enjoyed in any pantry for creative snacking, baking and adding a boost of healthy coconut to one's diet.
I review many paleo products and also give away many products that I love. Be sure to see what's being given away in the latest PaleOmazing giveaway. Enjoy!
If you have any questions or suggestions just email me at Tina (at) Paleomazing.com.