I am into quick and easy rewarding recipes. This toasted maple pecans recipe is just that but it is also very versatile. This paleo recipe is a terrific topping on a salad with my Paleo Rack of Lamb or as a snack any time of day. Try it over any of my paleo ice creams and you will be in heaven. Make some muffins and top them with this recipe to feel like you went to pecan bun heaven.
As I said, I strive to make quick, easy and always delicious dishes. Also, along with these requirements my recipes must be nutritious, which these are. Pecans are rich in many nutrients. They are filled with B-vitamins, contain cancer-fighting elements and taste delicious. Add in the extra good fats from the coconut oil and now we are really talking. I enjoy making paleo snacking easy and enjoyable. They are a good snack to eat when you are craving popcorn too because they handle that roasted, crunchy craving.
I adore sitting with my version of Bulletproof Coffee and having a little dish of these nuts in a little glass bowl right by my computer. Perfect! I hope you enjoy and be sure and make plenty as they store beautifully!
Try these with my many baking recipes too! Have fun with all the various creations you come up with, and do email me to let me know what you create. I love to hear about all the great things going on in your kitchens!
Print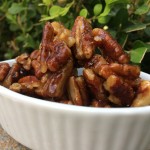 Paleo Toasted Maple Pecans
---
Description
---
¾ cup

pecans (whole or pieces)

1 teaspoon

grass-fed butter or coconut oil

3

–

4

tablespoons 100% pure maple syrup

2

pinches of salt
---
Instructions
Preheat your skillet on medium heat.
Add the pecans and lower the temperature.
Toss constantly until they start to lightly crisp and turn a darker brown.
Remove and cool slightly.
Add butter or oil to skillet with warm nuts and toss to coat all.
Turn heat to medium.
Add 3 tablespoons maple syrup and stir with a heat-approved plastic or metal tipped spoon.
Maple syrup will start to bubble.
Turn heat down to low.
Do not allow to burn or cook at too high a temperature.
Keep stirring.
Maple syrup will appear to boil "away", but it is actually caramelizing.
You can add the additional 1 tablespoon maple syrup if you prefer a more heavily coated nut.
Remove once the maple syrup is nearly gone and before any burning occurs.
Add the pinches of salt while maple is still hot and stir once again.
Let sit a bit or serve! Great at warm, room temperature or chilled.
Enjoy!
---
Notes
Add more salt if you prefer a more sweet and salty version.
These will store in an airtight container very well.
If you have any questions or suggestions just email me at Tina (at) Paleomazing.com.