Can you say this fast: "Paleo Chocolate Cherry Apple Tarts"? Whether you can or can't, you will love these little tarts. Full of flavor and loaded with a punch from the apples, cherries and dark chocolate; plus the crust is so easy to make, believe me, not to mention this entire recipe! Today is macadamia nut day and since September 6th is Coffee Ice Cream Day, by all means serve these warm with my Paleo Coffee Ice Cream. In my ice cream recipe I also reveal my secret on how I get my ice cream to maintain a "soft serve" texture for days. As we know, chocolate and coffee (not to mention ice cream) can do a body wonders and can put a happy smile on anyone's face. If you are up for trying a crazy twist on a latte, do try my dairy-free frothy coconut coffee latte.
Please be sure and get yourself some good quality chocolate and coffee as this will add that special touch. When it comes to chocolate I never like to use much less than a 70% as higher is much better for you. This little informative read may help you get over your fear of feeling like a fat-ass after sneaking in some good dark chocolate while you feel like your husband is looking at your rear end. Rest assured it is good for you, is loaded with antioxidants, helps stave off heart disease, helps the memory, gives an athletic boost, and for the pregnant ladies it may benefit fetal growth and development (yes, you heard that right). It smells heavenly so that's a plus for the ole' sinuses and taste buds and is a natural breath freshener. I threw that in as who does not like the smell of chocolate?!
OK ladies and gents, with that out of the way, head to your kitchen and pull out the below ingredients from your pantry, get your ice cream maker ready and get to baking one of my favorite paleo dessert recipes. Have a piece of dark chocolate for me while you are at it, and just know I am smiling for you and on your side when it comes to good health and a bang out strong body. 🙂
Have fun and enjoy, and feel free to take a peek at the other recipes that I have to share in one of my simple and delicious eBooks called Decadent Chocolate & Cacao Recipes and Delights located here on my eBook page!
Print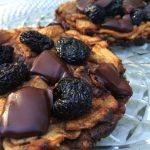 Paleo Chocolate Cherry Apple Tarts
---
Description
These delicious tarts are full of flavor and loaded with a punch from the apples and cherries plus the dark chocolate and the crust is so easy, believe me, not to mention this entire recipe. Be sure to serve these warm with my Paleo Coffee Ice Cream.
---
NUT CRUST

1 cup

walnuts or pecans, chopped fine (but not powdery) – you can use one type of nut or 1/2 and 1/2

2/3 cup

pitted, packed medjool dates
OPTIONAL: pinch of powdered vanilla
FILLING

4

sweet apples such as Honey Crisp or Fuji apples, cored, peeled and thinly sliced in a food processor

1 cup

pitted Bing cherries or

½ cup

semi-dried tart cherries of your choice

¼ cup

maple syrup (or honey)

3 tablespoons

cinnamon

½ teaspoon

vanilla paste

1

pinch of salt

8

–

10

oz. 70-80% dark chocolate chips or pieces chopped up into pieces (around

¼

inch pieces)
---
Instructions
NUT CRUST
Preheat oven to 350F degrees.
Grind all ingredients together in a food processor.
Add drops of water if the mixture is too crumbly.
Press mixture into your tart pans or pie dish to form a nice 1/8 – ¼ inch thick crust.
Bake in preheated oven for 10 minutes.
Remove and let cool.
FILLING AND ASSEMBLY
Keep your oven temperature at 350F degrees.
Gently stir your apples, bing cherries (see note about dried cherries below), syrup, cinnamon, vanilla paste and salt together.
Transfer the mixture to your cooled pie crust or tart crusts.
Cover lightly with foil and place on the middle rack of your oven.
Bake mini or full-size tarts/pie for 14-20 minutes or until mixture is slightly bubbling.
Lower temperature to 300F.
Remove foil and bake until hot, approximately 6 more minutes.
Top with dark chocolate pieces (and semi-dried tart cherries).
Bake for another 5 minutes.
Serve hot with my Paleo Coffee Ice Cream.
Enjoy!
---
If you have any questions or suggestions just email me at Tina (at) Paleomazing.com.